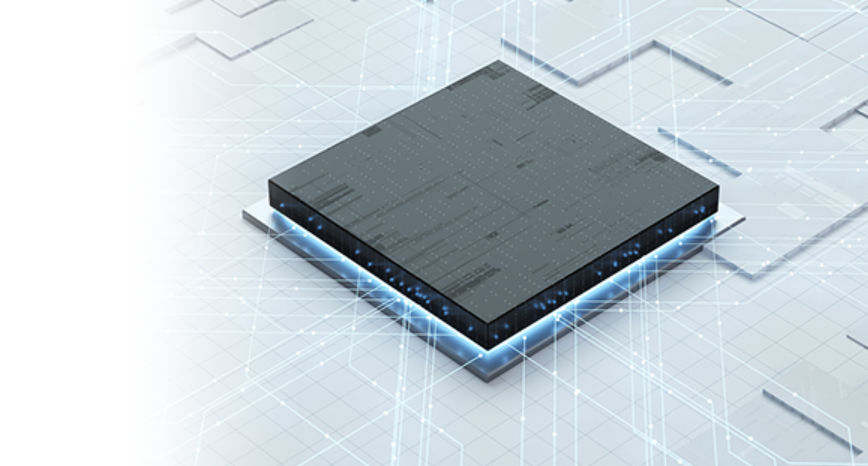 FX5169
TX-RX Quad-Band Front End Module for GSM /GPRS with Two Rx ports
Description
Housed in a compact 7.0mmx6.0mmx0.74mm package, the FX5169 greatly lowers the front-end complexity of GSM/GPRS solution, facilitates the customer's implementation, and saves board room and cost significantly.
FX5169 is a transmit and receive Front-End Module (FEM) with integrated power amplifier control designed in a low profile, compact form factor for quad-band cellular handsets comprising GSM850/GSM900 and DCS1800/PCS1900 operation. FX5169 supports quad-band GSM/GPRS, with matched 50-Ohm RF input and output ports. The FEM also supports UMTS applications through two high linearity TRx ports.
The module consists of a GSM850/GSM900 PA block and a DCS1800/PCS1900 PA block, impedance-matching circuitry for 50 ohm input and output impedances, Tx harmonics filtering, high linearity / low insertion loss RF switch, and a Power Amplifier Control (PAC) block. One PA block supports the GSM850 / GSM900 bands and the other PA block supports the DCS1800/ PCS1900 bands. Both PA blocks share common power supply pads to distribute current. The output of each PA block and the outputs to the two receive pads are connected to the antenna pad through an RF switch. Two broadband interchangeable receive ports provide flexibility to support multimode and multiband configurations.FX5169 consists of a CMOS power amplifier, a SOI SP4T antenna switch on a multi-layer laminate substrate.
Band selection and control of transmit and receive are performed using three external control pads. Refer to the block diagram in Figure 1 below. The band select pad BS, VLogic and TxEN select GSM850, GSM900, DCS, and PCS modes of operation.
The FX5169 is compatible with logic levels from 1.2V to 2.9V for BS, VLogic and TxEN pads.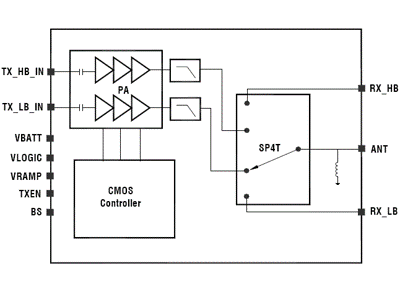 Featues
• Quad-band GSM/GRPS (GSM850/EGSM900/DCS1800/PCS1900)
• Rated output power for GSM:
GSM850/EGSM900 33dBm
DCS1800/PCS1900 30dBm
• High efficiency for all bands:
GSM850/EGSM900 43%@33dBm
DCS1800/PCS1900 34%@30dBm
• 50Ω matched Input/Output
• 2 low insertion loss/high linearityTRX ports
• GPIO control pins
• Improved TRP variations
• Internal harmonic filtering
• Small, low profile package: 7 mm x 6 mm x 0.74 mm 30 pad configuration
• MSL rating level 3
• Green product Applications